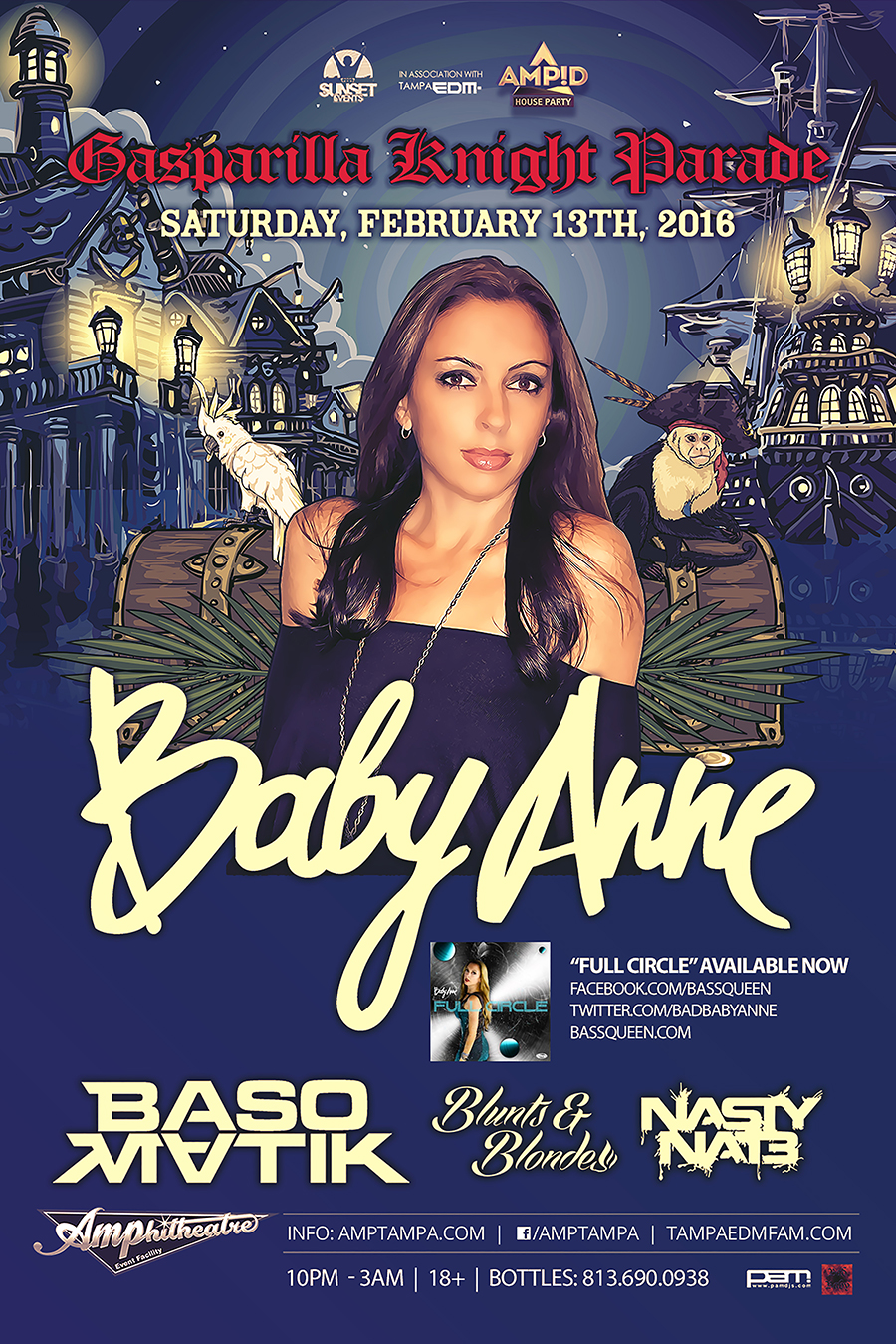 Baby Anne – Gasparilla Knight Parade – at The AMP – 2/13/2016
Buy Tickets
The Bass Queen returns to Tampa once again for the Gasparilla Knight Parade party at The AMP for AMP!D House Party! Don't miss one of our biggest parties every year as Baby Anne throws down some bass-heavy tunes to show you why she's been dubbed The Bass Queen!
Baby Anne aka "The Bass Queen" has blazed a Trail across North America and Beyond with her DJ sets and Original Productions. Her signature recipe is a delicious fusion of high energy Electro Breaks and Miami Bass seasoned with funky beats and driving bass lines. Her musical influences range from Miami Bass stalwarts Dynamix II and AfroRican, to overseas tunes by Kraftwerk & 808 State, from statesides DJ Icey and Information Society to a host of Funky Freestyle records from back in the day!
Baby Anne is known not only as a DJ but also a recording artist, having dropped loads of tracks on her own Bad Baby record label and DJ Icey's Zone Records Imprint as well as other labels. Her latest single "Baby Vicious", on Bad Baby is rocking dance floors across the country. Baby Anne has pounded out 11 Mix Cds, all of which have charted on the Billboard Soundscan Electronic Top 50 album chart from 1999's "BassQueen in the Mix" to last year's iTunes release, "I Heart Bass".
2010 sees baby dropping her twelfth floor crushing Mix CD, entitled "Babylicious" (Moist Music/Zone Records), a mix to further her reputation as Electronic Music's leading lady of Bass and Breaks! Baby Anne is set to ignite dance floors worldwide as the "Babylicious" CD Release tour starts in Mid Summer and continues into 2011! Her prowess behind the decks is always electric and fresh as she carves out the path for her Bass Beat evolution. Catch Baby behind the decks for a night of dance floor mayhem!