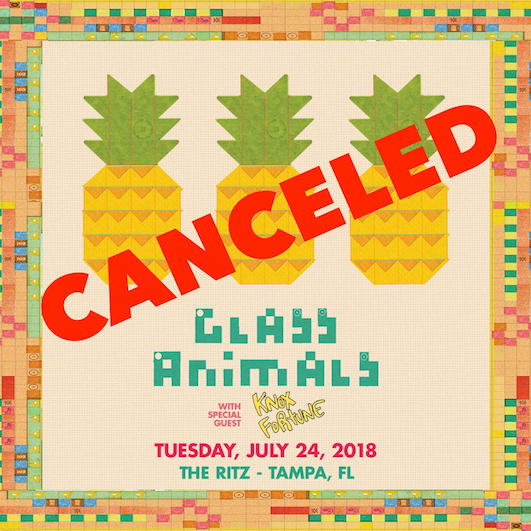 CANCELED – Glass Animals at The RITZ Ybor – 7/24/2018
Sold Out
Event Cancelled
From Glass Animals:
Dear all,
last monday my best friend, and our drummer joe was hit by a truck while on his bike here in dublin. his leg was broken on impact and he became tangled in the truck's trailer where his skull suffered a complex fracture. miraculously and thankfully, he is alive. after a couple long operations he is now on the road to recovery. It's going to be a long, difficult, and winding road, but knowing how determined joe is, and seeing how much his body has recovered already in the past 7 days, i am so optimistic that he will make it back to his cheeky old self.
this past week joe has been under general anaesthetic twice. first for neurosurgery and second for his leg. the neurosurgery consisted of reshaping part of his skull that had collapsed and been compressed into the brain by the weight of the truck's trailer. the operation was successful, but the collapsed skull had bruised and damaged the area of the brain responsible for speech. initially joe was only able to get out one word…'i'….but each day he is finding more. As far as we know so far, no other areas of his brain are severely damaged like this. he can still wiggle his fingers and twinkle his toes, and he still laughs at all my shit jokes, and demands we wake him up so he can watch the world cup while feed him ice cream and grapes.
it wasn't safe for him to go directly into his leg surgery after his brain op, but a couple days ago he was given the go-ahead by the consultants. he now has a titanium pin holding two halves of his femur together….basically he is now wolverine.
we are very sorry to say that, because of all of this, we will be cancelling our remaining shows this year. joe's injuries are highly unlikely to heal in time to make any of them. i wish more than anything that this accident hadn't happened and that joe was ok and that we would still be coming to hang with you all, but life has thrown something horribly sad and unexpected at us, and we need to do everything in our power to conquer it and get joe back on his feet. i sincerely hope you understand. we will be back as soon as we can, and stronger than ever.
all my love,
dave
** Refunds available at point of purchase. If you purchased the tickets thru axs.com, their customer care # is 888-929-7849. We apologize for any inconvenience