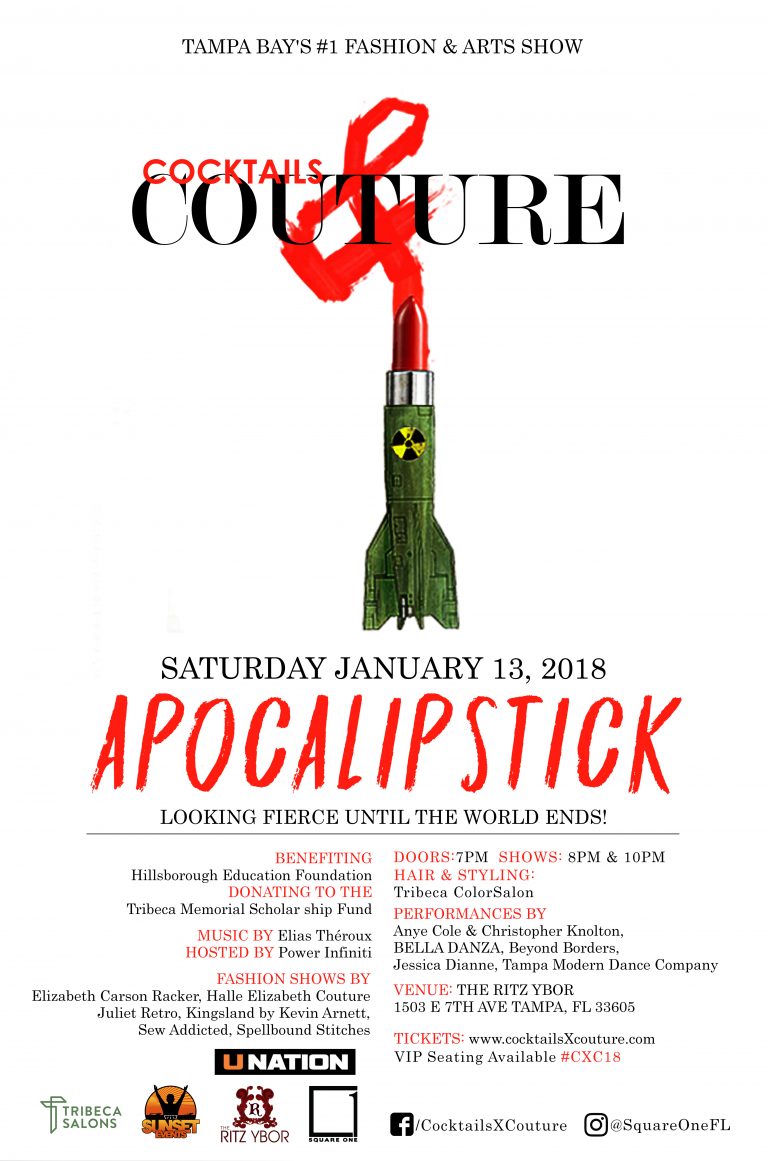 Cocktails & Couture: APOCALIPSTICK Fashion Show at The Ritz Ybor – 1/13/2018
Buy Tickets
LOOKING FIERCE UNTIL THE WORLD ENDS… AS AN 'APOCALIPSTICK' HEADS TO COCKTAILS & COUTURE ON SATURDAY, JANUARY 13, 2018
Tampa, FL – Tribeca ColorSalon, Sunset Events and Square One will present their 6th Annual COCKTAILS & COUTURE event on Saturday, January 13, 2018 at The RITZ Ybor.  COCKTAILS & COUTURE will feature three themed rooms each featuring their own craft cocktail menus.  Fashion Shows will take place in the Main Theater at 8pm and 10pm featuring designers Elizabeth Carson Racker, Halle Elizabeth Couture, Juliet Retro, Kingsland by Kevin Arnett, Sew Addicted and Spellbound Stiches, with hair and make-up by Tribeca ColorSalon.  Live entertainment will be provided by singers Anye Cole, Christopher Knolton, and Jessica Dianne, dance troupes BELLA DANZA, Beyond Borders Entertainment, and Tampa Modern Dance Company, host Power Infiniti, with music by Elias Théroux.
The theme of COCKTAILS & COUTURE 2018 is APOCALIPSTICK, a fashionista play on the word 'apocalypse.'  If the world were to end, guests are encouraged to look their fiercest.
COCKTAILS & COUTURE is open to the general public ages 18+.  Doors to the event will open at 7pm, and the event will conclude at 11pm.  General Admission tickets are $13.00 (until December 23), $18.00 (December 23 to January 13) and $25.00 (day of show).  VIP Seating tickets will be available.  VIP Fashionista admission is $60.00 and includes a private VIP-only entrance, access to the reserved VIP seating areas, an exclusive VIP Tribeca ColorSalon swag bag, and two (2) drink tokens for any craft cocktails or beverages.  All tickets can be purchased online at www.cocktailsxcouture.com. Select proceeds from this year's event will benefit the Hillsborough Education Foundation donating to the Tribeca Memorial Scholarship Fund.
Sponsors of COCKTAILS & COUTURE include Tribeca ColorSalon, Sunset Events, The RITZ Ybor, Square One, and UNATION.
Tribeca ColorSalon are Tampa's only professional salons dedicated to the science and art of hair color with two locations in South Tampa and Ybor City.  www.tribecasalon.com
The RITZ Ybor is located at 1503 East 7th Avenue in the historic Ybor City district of Tampa, Florida.  www.theritzybor.com.
For MORE INFORMATION, please visit www.cocktailsxcouture.com #CXC18