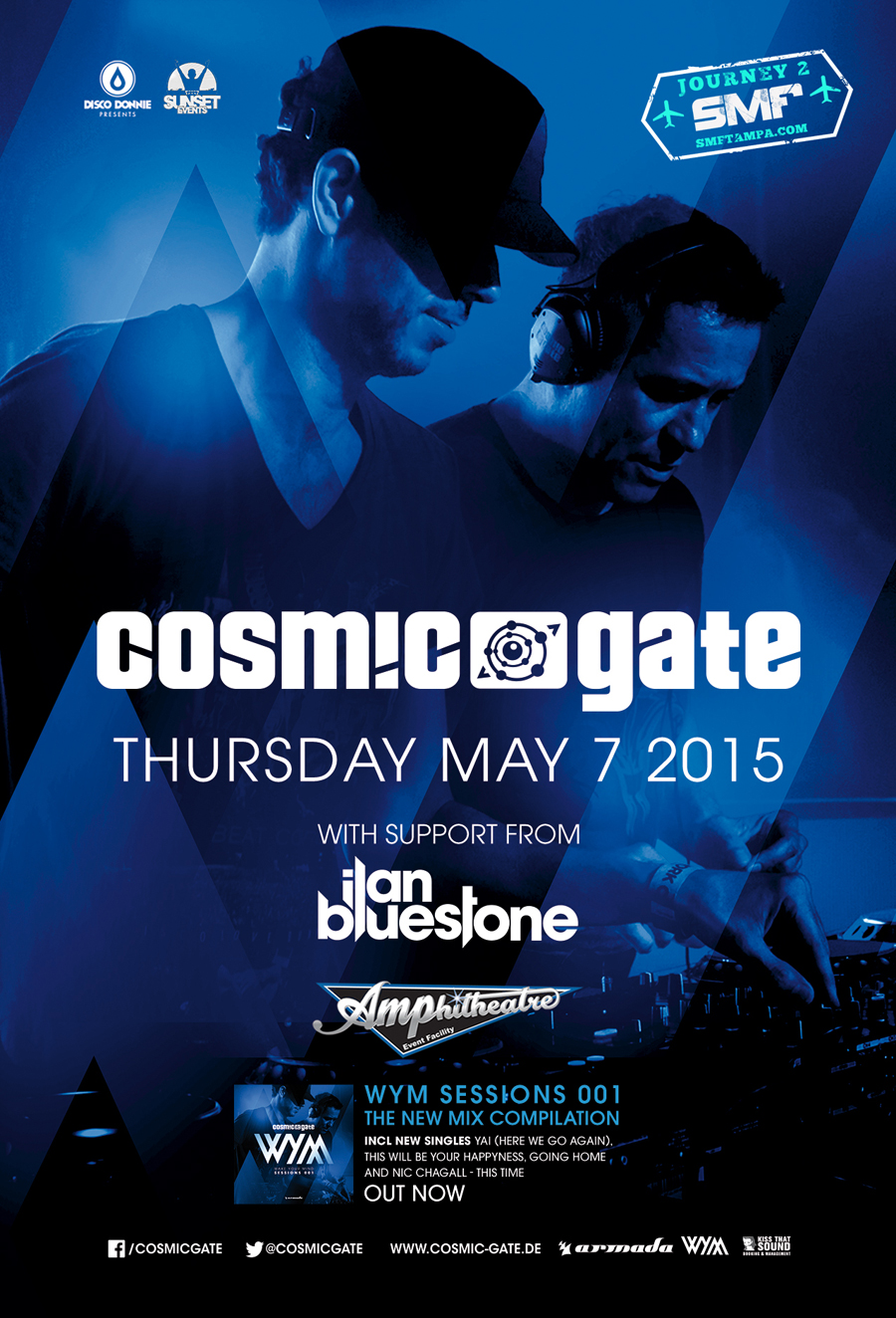 Cosmic Gate & Ilan Bluestone at The AMP 5/7/15
Buy Tickets
Sunset Events and Disco Donnie Presents in Association with TAMPA EDM present – COSMIC GATE – on The Journey 2 Sunset Music Festival With Support from ILAN BLUESTONE, Thursday – May 7th, 2015 – at The AMP in Ybor.
Doors: 10p-3a
Ages: 18+ Welcome
Tables: (813) 690-0938
www.amptampa.com
————————–———————-
COSMIC GATE
www.cosmic-gate.de
www.fb.com/cosmicgate
www.twitter.com/cosmicgate
www.soundcloud.com/cosmicgateofficial
The perfect union of musical minds, one karmic meeting in a recording studio resulted in Cosmic Gate's Big Bang moment. It set brothers-in-sound Nic Chagall and Bossi on a rapidly expanding path – one that's seen them evolve into Germany's most consistently successful electronic music duo. It's catapulted their Cosmological productions to the highest reaches of the official sales charts and seen them remix the compositions of revered Hollywood composers such as 'Avatar's James Horner. Through their atomic on-stage synergy, Nic & Bossi have created countless unforgettable dance floor nights. They've sold out arenas & festival halls, conquered EDM capitals, hosted their own stages at major festivals and 10 years into their career became the highest climbers on DJ Mag's Top 100 chart. Driven by their hugely received albums, club-busting singles (incl. 'Not Enough Time', 'Body of Conflict' and 'Over The Rainbow') and scene-defining classics 'Be Your Sound', 'Fire Wire' and 'Exploration of Space', their place in EDM's hall of fame has long since been secured.
In 2011 the duo released 'Wake Your Mind' – their fifth artist album. It produced 'Be Your Sound' – a release which UK EDM bible MIXMAG said: "finally unseats 'Fire Wire' as Cosmic Gate's best-known-for track". The track scored an IDMA nomination in 2012, with the JES-sung 'Flying Blind' following suit at the awards a year later. Such was the response to the album and its singles that in February of 2013 a multimedia Deluxe Edition was compiled. This brought together for the first time all of the 'Wake Your Mind' tracks, a 360° remix compendium and the album's celebrated singles videos.
Through 'Wake Your Mind's title, Nic & Bossi had communicated a belief in border-free electronic music to fans. Its message was embraced by untold thousands of clubbers and music lovers around the world, subsequently turning into a groundswell movement. The #WYM tag was widely adopted as the abbreviation-of-choice for those wishing to display a more flexible, less tribal outlook to electronic music.
In the second half of 2013 Cosmic Gate added other significant dimensions to Wake Your Mind, further galvanizing the #WYM effect. Following rave receptions to a string of sold out Wake Your Mind In Concert gigs they launched Wake Your Mind Records. Attached to the Armada Label group, it brought yet greater scope to its core ethos.
————————–——————
ILAN BLUESTONE
www.ilanbluestone.com
www.fb.com/ilanbluestone
www.twitter.com/ilanbluestone
www.soundcloud.com/ilanbluestone
In the last year, London-based producer Ilan Bluestone has gone from unknown newcomer, to one of the most promising new acts on the international dance music scene.
He discovered his love for music at an early age by self-teaching guitar and keyboard, which resulted in a passion for that 'progressive' sound he builds on today.
With recent releases "Namaste" and "Capetown" on Anjunabeats, Bluestone has become a permanent fixture in Above & Beyond's recent DJ sets as well as gaining comprehensive support from other international DJ's including Tiësto, Arty, Gareth Emery and Myon & Shane 54. "Capetown" received an overwhelming amount of love from DJ's and dance music lovers around the world and was recently featured on Jordan Suckley's BBC Radio 1's "In New DJ's We Trust" show.
Inspired by the likes of Above & Beyond, Arty and Swedish House Mafia, as a producer Bluestone always has a little extra in his record bag. From his celebrated "On Our Own", a collaboration with Israeli producer Maor Levi, to his eastern inspired "Namaste" and the incredible remix of "Remolino", to remixing for Paul Van Dyk on the recent track "I Don't Deserve You", Bluestone has the ability to shower music lovers with his uplifting, original material and brilliant remixes of some of the best dance music today.
With a dedicated fanbase that is building rapidly, Bluestone is sure to ignite dance floors around the world with his unique and inspiring tracks, which he hopes will put a smile on everyone's faces.