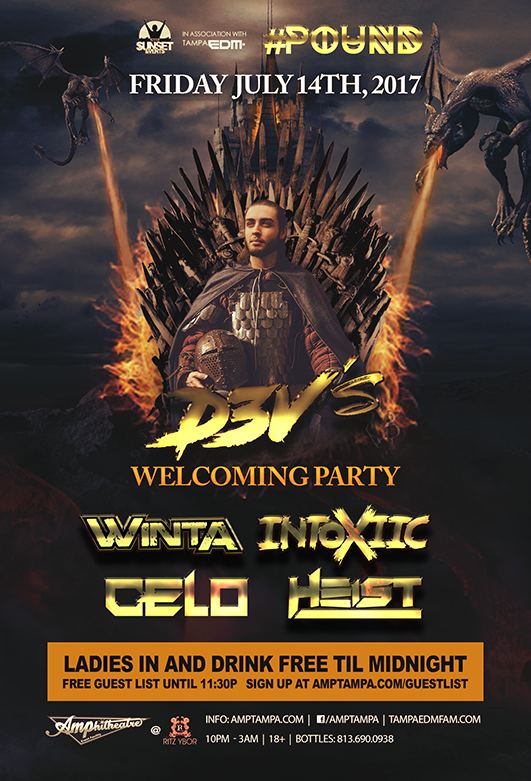 D3V's Welcoming Party – #POUND Fridays at The Ritz Ybor – 7/14/2017
Buy Tickets
Sunset Events in Association with Tampa EDM present:
D3V's Welcoming Party
Friday – July 14th, 2017 – at The Ritz Ybor for #POUND Fridays
LADIES IN & DRINK FREE UNTIL MIDNIGHT
FREE GUEST LIST FOR GUYS UNTIL 11:30P
with Support from
WINTA
www.fb.com/Winta.Official | www.soundcloud.com/djwinta
INTOXIIC
CELO
HEIST
Doors: 10p-3a
Ages: 18+ Welcome
Tables: (813) 690-0938
www.amptampa.com
————————–———————-
!! GUEST LIST !!
Add your names to the GUEST LIST before 9PM night of show to achieve special benefits! Post your name(s) to the Facebook event page wall to be guest listed. Benefits include…
– FREE entry for ladies until midnight
– FREE drinks for ladies 21+ until midnight
– FREE entry for guys until 11:30pm
INSTRUCTIONS – VERY IMPORTANT!
– You must TAG your Facebook profile & list your name as it appears on your ID (if different)
– You must mark yourself as 'GOING' to the event, not maybe or interested.
**If you do not do BOTH of the above, you will not receive free entry.**
PUT NAMES ON WALL LIKE THIS:
Steven Phillips
Jessie Cruise
Paul Henderson