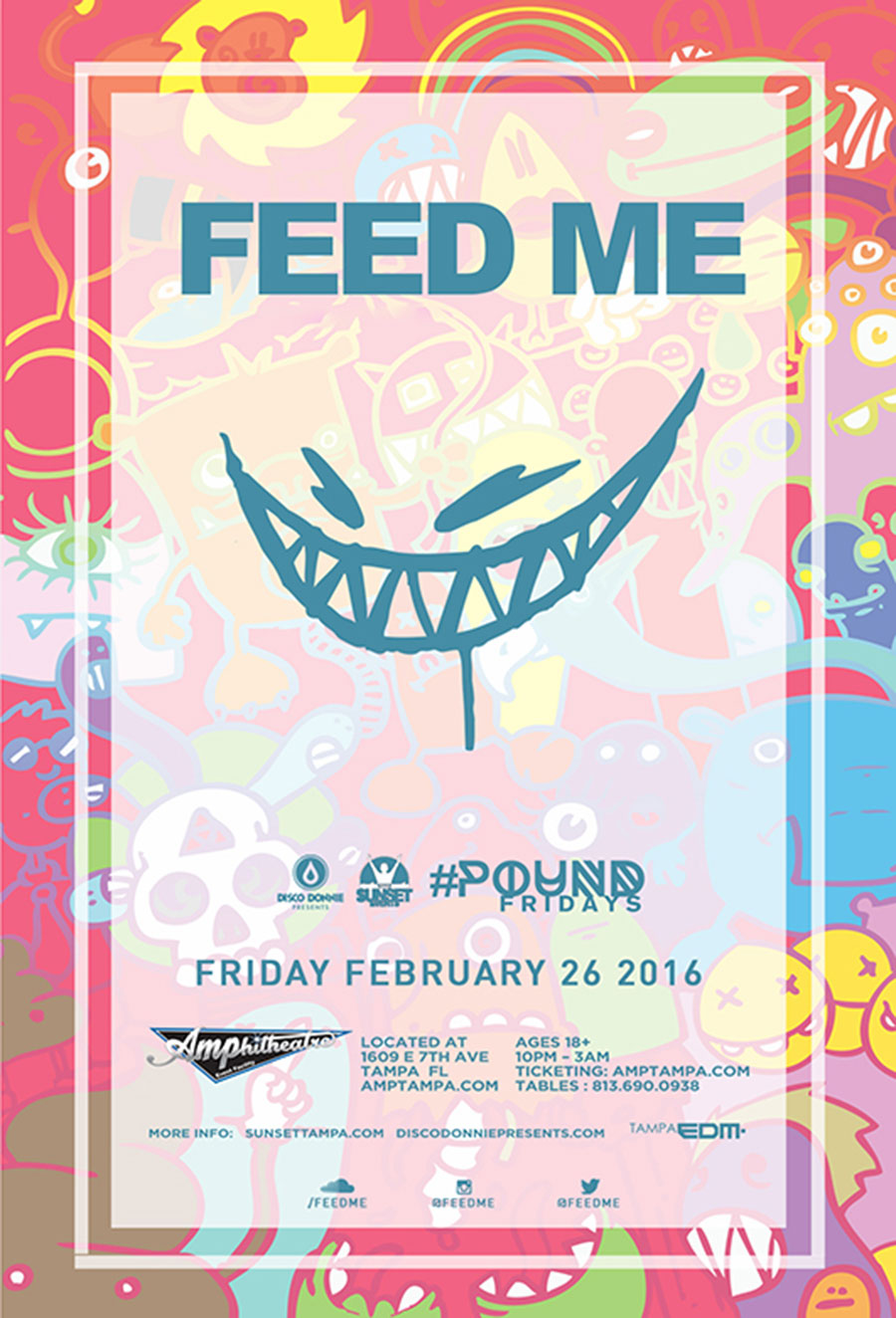 FEED ME – at The AMP – 2/26/2016
Buy Tickets
Jon Gooch aka Feed Me debuted in 2008 as the first external artist to be featured on Deadmau5's revered mau5trap label. With his unique brand of hard-­‐hitting, bass-­‐ heavy electronica, his first EP for the label in 2010 garnered him international acclaim. The 8-­‐track 'Feed Me's Big Adventure' immediately took Beatport by storm with six of the tracks hitting the top 10.
As the creature behind the production on 'Midnight Run' from Example's third album 'Playing in the Shadows' and 'Bleeding Out' from Korn's latest album he has showed his diverse skills in the studio. Next to his productions for others, his own 4-­‐ track 'To The Stars' EP and 'Feed Me's Escape From Electric Mountain' have delved yet further into his inimitable sound, touching upon everything from electro house to dubstep. That being said, Jon is a true artist, drawing and designing all his own artwork and creating a full character within Feed Me.
At the beginning of 2013, Feed Me sold out a 20 date US tour where he took his colossal live show, a mega 20 foot LED "TEETH" structure, across the country, taking the Feed Me experience to a whole new stratosphere. He then brought his his full set of teeth back home to a sell out London show where he first played material from his debut album 'Calamari Tuesday'.
Feed Me's summer festival season hit an almighty climax in 2013 as he closed the main stage Fuji Rocks in Japan following the legendary Bjork. He also appeared at numerous festivals across the globe sharing the stage with artists such as Foals, Stone Roses and Prodigy proving that Feed Me not only dominates the dance floors at electronic music festivals such as Creamfields and EDC, but his fan base spans the likes of UK's Reading and Leeds Festivals as well as Exit in Serbia, to name a few.
Most recently Feed Me released his debut artist album 'Calamari Tuesday' on his very own brand-­‐new label Sotto Voce. The album shot right up to Number 1 in the US dance charts and secured top spots in many other countries worldwide. As Dancing Astronaut's Michael Sundius put it -­‐ "The LP showcases Jon Gooch's considerable production value and masterful genre-­‐blending abilities; the extensive tracklist breathes life into the character of Feed Me, both solidifying and evolving the fiction into something very real and intensely compelling."
There are big things to come for Feed Me and Sotto Voce with new productions and live shows in development. 2016 is only bound to get bigger and better!