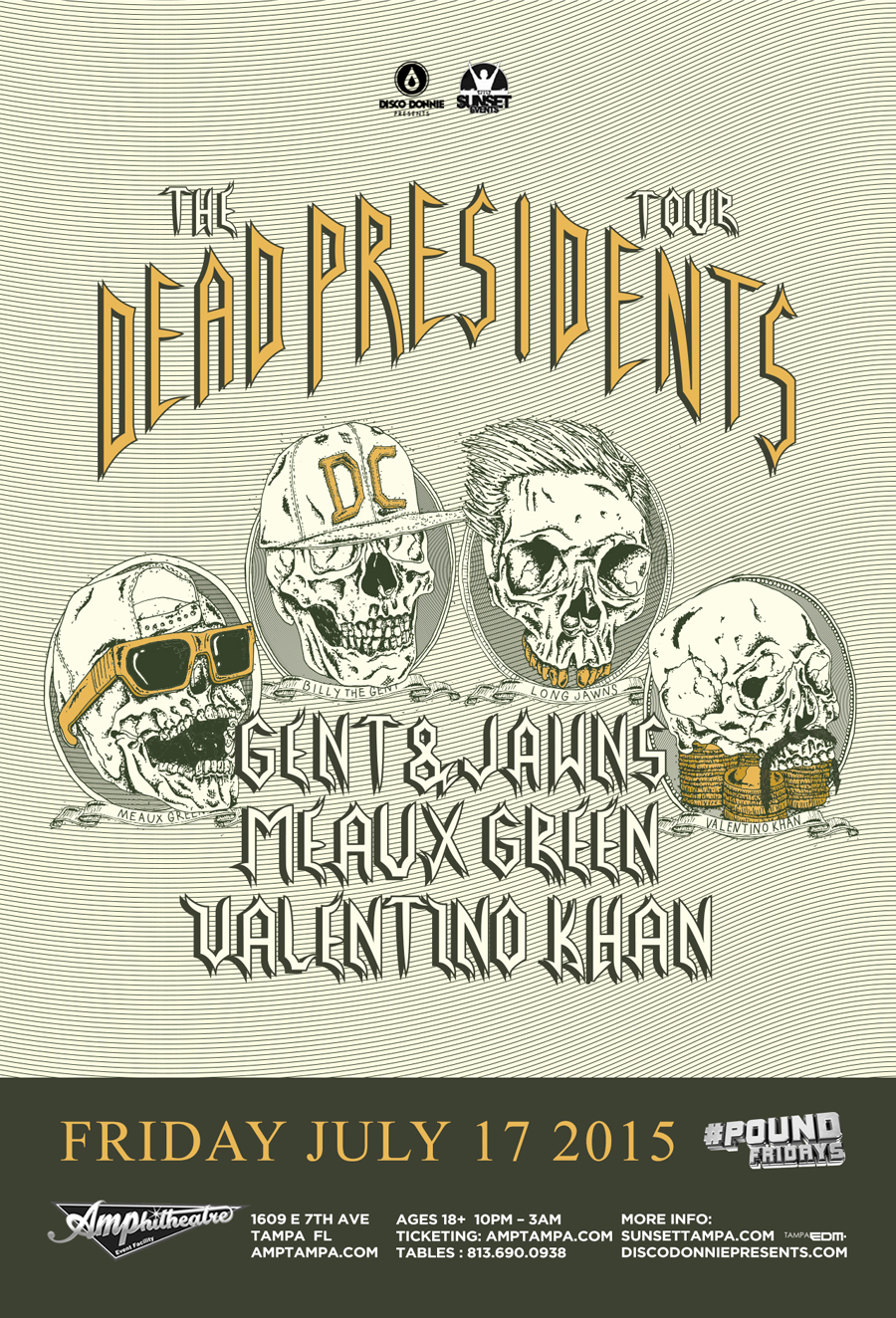 Gent & Jawns, Meaux Green, & Valentino Khan – at The AMP – 7/17/2015
Buy Tickets
Sunset Events brings us another BANGER of a booking with a trio of artists sure to blow your mind! The Dead Presidents Tour featuring Gent & Jawns, Meaux Green, & Valentino Khan invades #POUND Fridays at The AMP on Friday, July 17th, 2015 with a bass massacre that'll leave you begging for more.
GENT & JAWNS
www.fb.com/gentandjawns
www.twitter.com/gentandjawns
www.soundcloud.com/gentandjawns
After developing respectable solo careers as DJs and producers, long-time friends Billy the Gent and Long Jawns officially banded together as Gent & Jawns becoming an unstoppable force in the world of club music. The release of their now classic Moombahton anthem "Vibrate" catapulted them to the top of everyone's list of producers to work with and landed them remixes for Datsik, Bare, and Muffler, as well as collaborations with Nadastrom, Torro Torro and JWLS.
In early 2012 they worked with mega-producer Diplo on his Express Yourself EP, which topped the iTunes charts as the number one electronic album. They followed up with an absolutely stunning remix of the title track "Express Yourself," which saw repeated plays by many of the top DJs in the world. Shortly after, they released "Holler," their first official EP on Mad Decent's Jeffrees label. Jeffrees went on to earn the iTunes Label of the Year honors. The duo ended the year proper when they released "TURNUP", a party-inducing track that's being called the biggest trap song of 2012. In two weeks the track saw 80,000 plays and held position as the top electronic song on SoundCloud.
While known for their world-class production, Gent & Jawns' secret weapon is their ability to perform live. Long Jawns is a legend in his hometown of Richmond, VA, where he is widely known for throwing the biggest and best parties the city has seen in years. Billy The Gent began DJing with support from his friend Dave Nada (Nadastrom, creator of Moombahton) in Washington, DC and quickly became a staple at the famous U-Street Music Hall. Together, Gent & Jawns have gone on to share the stage with top notch acts like Diplo, Dillon Francis, Nadastrom, Caspa, Craze, Die Antwoord, and more.
https://youtu.be/vD_1wlVbpjg
——————————————–
MEAUX GREEN
www.fb.com/meauxgreenmusic
www.twitter.com/themeauxgreen
www.soundcloud.com/meauxgreen
"From sell out shows to viral releases Meaux Green's presence in dance music over the past months have turned him into one of the most coveted players in Trap, House, Bass, beyond and he works endlessly to secure a sound unlike anything before. Using his Hip-Hop background as inspiration, and fusing in today's modern dance sound, the Miami native now finds himself as one the leaders of the 100-bpm bass music sound. Building a name through multiple residencies and Southeastern shows, he has also become one of the fiercest DJs playing versatile sets and quickly becoming a crowd favorite.
His originals however are what pull the plays, the features and the largest widespread support. With nods from industry legends Moby and Boys Noize from the beginning, he's been commissioned on Henry Fong's records, and had his free releases picked up by the likes of ThisSongSlaps, EDM.com, Trap And Bass and dozens more. A regular on the mix shows of Brillz, BBC Radio 1, and Diplo & Friends, his work has gained the consistent support of industry greats like Craze, Diplo, DJ Snake, Dillon Francis, Bro Safari, UZ, Doctor P, TWRK and many others. In fact, Billboard.com recently aired Meaux Green as the "Next Big Sound" of 2013
Collaborating with the industry's most respected, his works have also landed him features on a handful of official record releases, including heavy hitting official remixes for Flosstradamus on Ultra Records. His collaboration "Thirsty" with CAKED UP for example hits Mad Decent running, as one of the heaviest and biggest supported tracks of 2014 and has already amassed over 4.5 million plays. Other collaborations with Tropkillaz, Party Favor, D!RTY AUD!O and more have set the bar high within his niche.
Sprinting into 2014, Meaux Green has packed his bags and is flying across North America on what is turning into a endless string of show dates. Plus, with massive collaborations underway and a collection of originals aimed at dance's best labels, Meaux Green is halfway to the main stage and has his lifetime fans right behind him."
https://youtu.be/6RnCg8DIBHM
——————————————–
VALENTINO KHAN
www.valentinokhan.com
www.fb.com/valentinokhan
www.twitter.com/valentinokhan
Valentino Khan is a music producer & DJ from Los Angeles, CA.
Valentino Khan makes everything.
From hip hop club anthems to dance music hits, Valentino's production knows no bounds. He has produced hip hop for multi-platinum and Grammy award-winning artists such as B.o.B., T.I., Bruno Mars, 2 Chainz, Iggy Azalea, Tyga and Kid Sister.
In the summer of 2014, Valentino signed to Skrillex's OWSLA imprint for his dance music releases and released his debut EP "In Khan We Trust." Khan also has had official releases on Mad Decent, Dim Mak Records, Columbia, Interscope, Warner Music, Ultra Records, and Slow Roast.
Valentino has shown a unique versatility in dance music — progressive house, techno, electro, hardstyle, trap, and more. Because of this, his work has garnered the loud support of some of the biggest names in EDM including the likes of Skrillex, Diplo, Boys Noize, Steve Aoki, Dillon Francis, Kill The Noise, Knife Party and many more.
He has established himself as one of the most in-demand remixers, with official remixes for artists such as Skillex, Dillon Francis, Wiz Khalifa, M.I.A., The Bloody Beetroots, Paul McCartney, Benny Benassi, Skylar Grey, Kreayshawn, Congorock, Sean Paul, DJ Craze, and Bro Safari.
2013 proved to be a big year for Valentino, both as a producer and a DJ. In the summer, Valentino and Diplo co-produced the smash single "Bubble Butt" for Major Lazer, which was a staple for radio, clubs, and festivals across the world. Additionally, in conjunction with his own headlining shows, Valentino spent 2013 touring as support for Skrillex, Zedd, and the Bloody Beetroots.
Khan now looks to continue his success in both the dance music and production worlds.