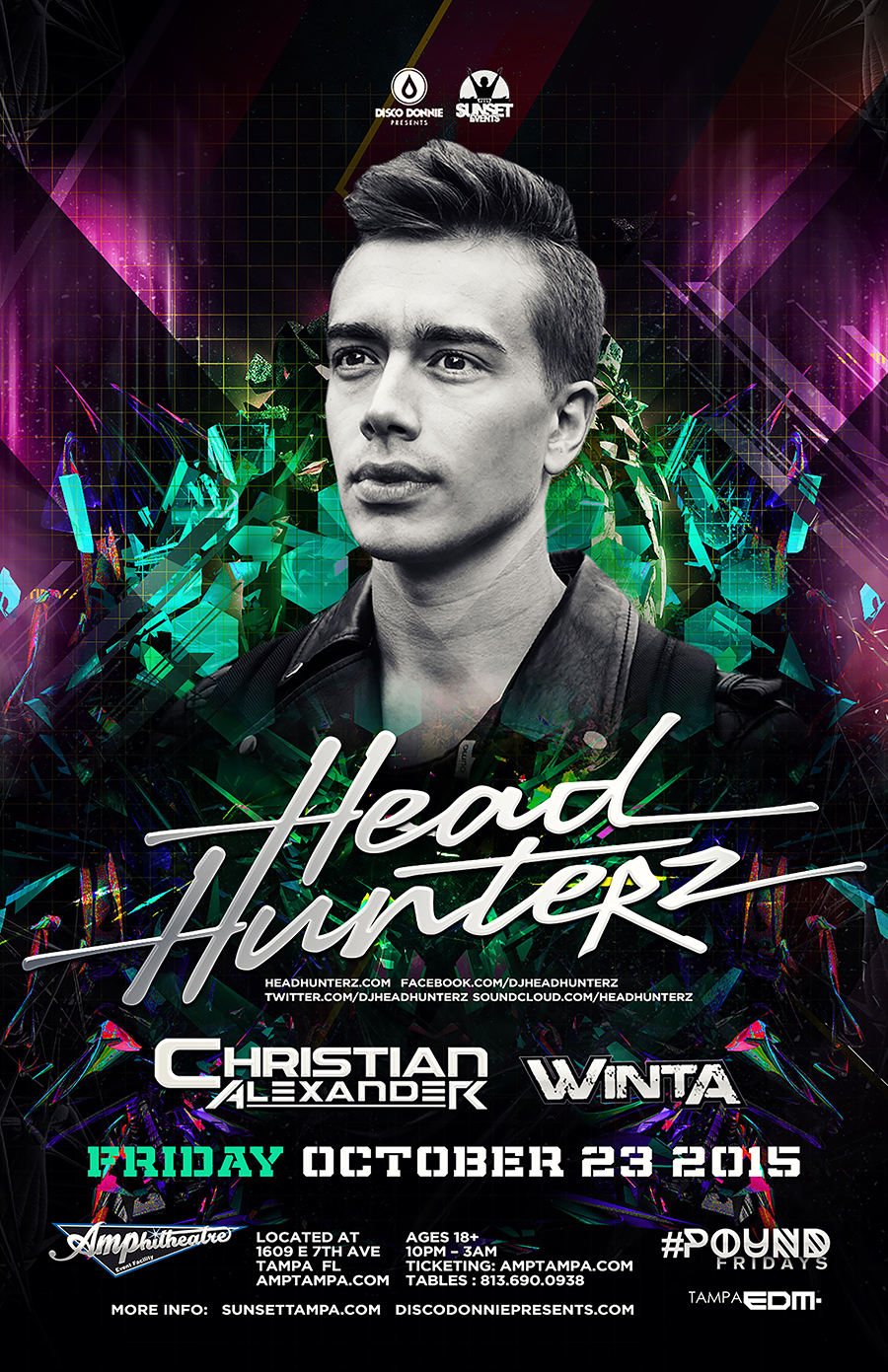 Headhunterz – #POUND Fridays at The AMP – 10/23/2015
Buy Tickets
After he destroyed the Eclipse stage Day 2 at Sunset Music Festival this year – Headhunterz returns to Tampa to take over #Pound Fridays at The AMP on Friday, October 23rd in Ybor.
You'll rarely find a mind more in sync with the music within, than that of Dutch DJ, producer and label owner Willem Rebergen, better known as Headhunterz. His HARD with STYLE brand continues to build, as his sounds grow stronger and more colorful than ever. Resolved to follow his heart, he does so with beating energy, endless willpower and passion, resulting in a swift rise to the top in no less than 8 years.
Heady's character resounds in each of his originals, remixes and sets, celebrated by an engaged, worldwide following. His roots are found in Hardstyle, a scene he takes a leading role in. As one of the first of a new generation of hard dance artists, Headhunterz looks back on a rollercoaster ride of highlights. Main stage performances at globally renowned festivals such as Electric Daisy Carnival, Qlimax, Defqon. 1, Coachella and Decibel Outdoor. His very own, sold out shows at Amsterdam's Ziggo Dome, the X-Qlusive event in Heineken Music Hall and the official HARD with STYLE night in the Melkweg venue. These milestones make his #23 position in DJ Mag's Top 100 a mere nicety of the continuous support of his fans.
Since making his production debut on Scantraxx in 2005, Headhunterz has worked hard to turn his dreams into reality. Nearly a decade later, he looks back on three artist albums. In only three months, he and Wildstylez created the 'Project 1' album, shortly followed by the 2010 solo album 'Studio Sessions'. His latest longplayer, 'Sacrifice', includes crowd favorites 'Dragonborn', 'From Within' and 'The Power of the Mind'. All proceeds of 'Sacrifice', released in 2011, were donated to Dance 4 Life, a charity organization of which Willem became an ambassador.
Responsible for several official anthems of Qlimax and Defqon.1, the bullying protest song 'United Kids of The World' ft. Krewella, as well as chart-topping remixes for Kaskade's 'Lessons in Love', Hardwell's 'Spaceman', Zedd's 'Spectrum' and Nicky Romero's 'Toulouse', make it clear that the Headhunterz sound is in great demand. On top of that, his leading, monthly HARD with STYLE Podcast keeps his fans up to date on personal favorites and the most banging must-hears.
Struggling to find balance between a killing tour and studio schedule and being DJ Mag's highest ranked Hardstyle DJ in history, has seen Headhunterz looking out for new inspiration. And boy, did he find it. After a year of radio silence he brought the mighty 'Colors' ft. Tatu, his first release on US major Ultra Music. Switching routes in his career has been awarded with a golden record, a sign that the path he took, is the right one. Ready for even bigger things and discoveries, Willem has taken on the role as label owner, by setting up HARD with STYLE in 2013. Through the label, Heady encourages young, new talents and offers them a platform to shine.
By taking these steps, Headhunterz chooses to follow his heart and blaze his own trail. Willem:"At this point in life, I'm ready to tell my own story. I'm ready to explore new boundaries with my music, to take it to a broader, higher level. In music, I want to feel free. I've accomplished a lot in the style I'm doing, but I want to keep challenging the inner me. And so, I will."