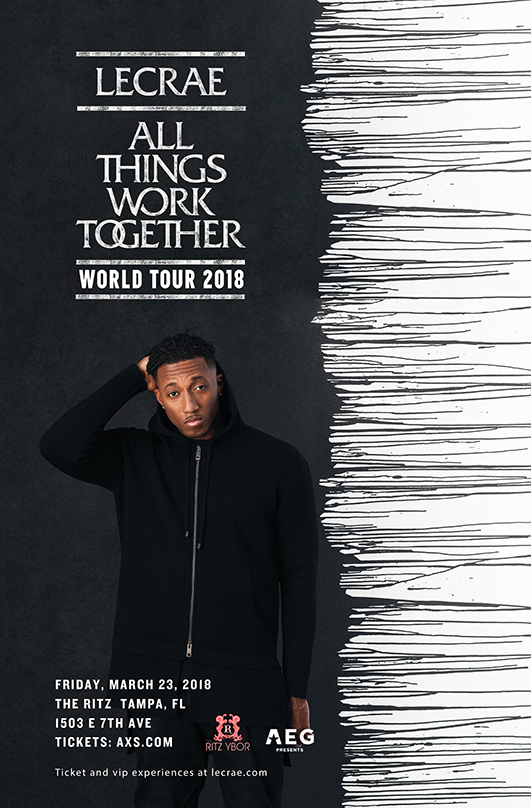 Lecrae's All Things Work Together World Tour 2018 at The Ritz Ybor – 3/23/2018
Buy Tickets
AEG Presents
Lecrae
All Things Work Together World Tour 2018
Doors: 6pm, Show: 7pm
Ages 12+
Tickets available for purchase online at www.axs.com
VIP: vip@theritzybor.com
---
Lecrae's 8th studio album, All Things Work Together is a purpose-driven effort of profound introspection and cunning social critique.  Never afraid to move the needle, he's in command of both firepower and nuance on his 14-track Columbia Records debut, a transformative journey of healing-through-pain.
Led by the Top 10 Urban radio hit "Blessings" featuring Ty Dolla $ign and the powerful track "I'll Find You" featuring Tori Kelly, Lecrae is joined by multiple award-winning producers, acclaimed guest artists, and impressive up-and-comers for the diverse album, including Metro Boomin', who produced "Hammer Time" featuring 1K Phew, Ramon 'Reo' Owen who helmed the insightful opener "Always Knew," DJ Dahi, who produced "Come And Get Me," and Go Grizzly, who produced "Watchu Mean" featuring Reach Records protégé Aha Gazelle.  Among other stellar tracks on the album are the prophetic "8:28," produced by Ayo and Keyz," the prescient "Broke," produced by T-Minus with a guest vocal from Perfekt, "Lucked Up," produced by DJ Khalil, Tariq Beats, and Mike & Keys, and the moving "Cry For You" produced by Lecrae's longtime collaborator/keyboard player Swoope and Taylor Hill (and featuring a vocal by Taylor Hill).
"I worked on so many songs with so many talented people, it was hard for me to get down to the 14," says Lecrae.  "You want people to grab the Easter eggs and the nuggets when they hear it, but at the same time you don't want them to absorb everything in one setting, so that on repeated listening they begin to see how the songs are interconnected, how it's all in context.   Taken as a whole, the album serves as a journey through chaos and hope and brokenness and blessing."
Prior to the album's release, Lecrae debuted documentary-style video vignettes ("Journey," "Human," "Catastrophe," "Awakening" and "Glory") to explain how each of the themes binds people collectively and comprises the fabric of All Things Work Together.  "Part of the DNA of this album is the realization that all things do work together to make you into the person that you need to be.  When you're in the middle of the chaos, you can come to realize that it is shaping you, creating endurance; it's a struggle that can bring about richness in character beyond all wealth."
Lecrae fans have come to expect a no-holds-barred authenticity from the rapper.  He's piloted a unique career trajectory for more than a decade defying the typical hip hop storyline.  'The system may not have planned for this,' wrote Vibe about Lecrae's inspiring hip hop ascent, 'but it's definitely coming around.' It's an incredible journey that includes two Grammys, a history -making #1 album with his masterful 2014 offering, Anomaly (topped multiple categories, including the Billboard 200 and is RIAA Gold certified), and a compelling live resume, which notched a headlining 2016 'Destination' tour, and a much anticipated 2017 All Things Work Together U.S. trek.
He released a NY Times Bestseller (last year's riveting memoir 'Unashamed') and broke out a flawless spoken word performance at the BET Hip Hop Awards in the fall of 2016 that further cemented his reputation as a truth-telling firebrand.  BET hailed it as an "epic poem," of "necessary affirmations."
The album's forceful opener, "Always Knew," sets the table for Lecrae's transparent articulation of those powerful and painful moments that forged his incredible odyssey. "Reo and I had been working on a lot of different things and that one really resonated," he says.  "I just went in the booth and stared freestyling.  I chronicled everything that affected me in my career.  I wanted people to hear the journey.  The fact that I remembered that my momma 'always knew' I was going to get 'there' really hit me emotionally.  And the line about never getting to meet my father but meeting 'the music that raised me' refers to that wonderfully surreal moment when I got to meet Jay Z.  I was like – so this is what my mom was talking about."
Lecrae has always intricately paired the threads of humility and conscious fulfillment, of stinging defeats and lessons 'earned' via the battle scars.  He explores similar themes on uplifting songs like "Broke," where the revealing line 'I used to go to school with the knock-off shoes' kicks off an empowering narrative about self-identity.  "Kids made fun of me for not having the real Chuck Taylors," he says.  "But I was fortunate even at a young age to have been taught the kind of values where I learned that shoes don't make the man."  He also points to one of the album's 'keystone' songs, the stirring "8:28," as a bridge that unites many of the album's themes of pain and redemption into one tapestry.   "That song is kind of like the heartbeat of the whole record," says Lecrae.  He was joined by Grammy nominated songwriter/singer Sickpen, who Lecrae says "is a great Atlanta friend who has worked with me on a lot of  songs over the years.  He gets what I'm trying to do, and with '8:28'  – which says in the bible 'all things work together for the good of those who love him' – I'm simply reminding myself and anybody else who's listening that no matter how ugly it gets, there's a grand tapestry at work.   The message for me is: In order to get to a place where I can embrace that 'hope' I also have to embrace the fact that I don't know what I'm doing."
He doubles down on that notion on the gripping "Cry For You," featuring Taylor Hill, with the telling line: 'Crooked sticks draw a straight line – just look at me.'  Lecrae says it was the most difficult song to get through emotionally and painful to record: "I wasn't even sure I was going to leave it on the album.  I wasn't in the best place at the time emotionally, physically or spiritually," he says.  "I wanted to be 'real' and I wanted to be honest and knew if I can't acknowledge being wounded, I can't expect any healing to happen.  I thought about taking it off the album and then I said 'No, I'm going to let people hear this.  It's a form of therapy I was willing to share with the world."
Is he at peace with the final result?  Does All Things Work Together meet his own high standards of achievement?  "There's always something you wish you could go back and change, but overall I'm more pleased with this album than any of the others I've done in my career," he says.  "I always think of myself as a 'catalyzer.'  I know a lot of people aren't wired that way but I am, but now I feel I've become more than just a part of the hip hop narrative.  I went out of my comfort circle on this one because I feel I can be a voice that reverberates throughout the culture.  These are songs that had to be written."