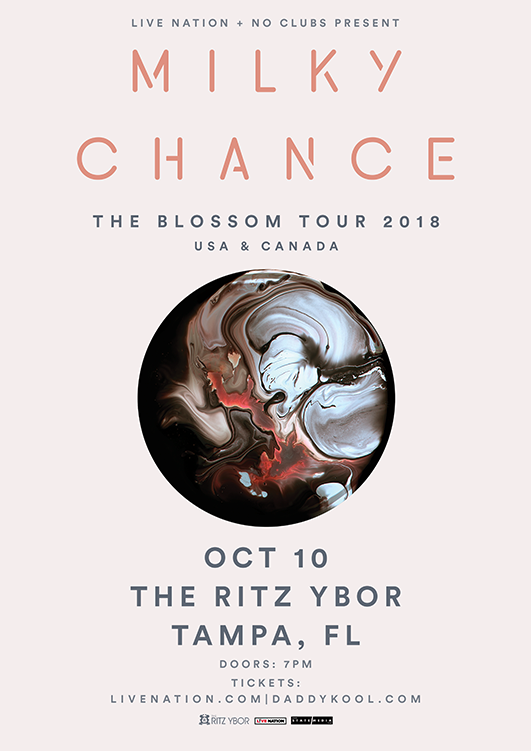 Milky Chance – Blossom Tour at The RITZ Ybor – 10/10/2018
Buy Tickets
Live Nation Florida + No Clubs presents
Milky Chance – Blossom Tour
Wednesday, October 10, 2018
with Lola Marsh
Doors: 7pm | Show: 8pm
This is a General Admission (standing) show.
VIP: vip@theritzybor.com (VIP is ages 21+ only)
Tickets available online at LiveNation.com + DaddyKool.com
Drink Special: Take a 'Chance' with a Milky Guinny made w/ Patron XO – $10
The RITZ Ybor
1503 E 7th Ave – Tampa, FL 33605
www.theritzybor.com
---
Before it can burst into flame, every fire needs an initial spark. For Milky Chance, that flickering introduction came a little over three years ago when they released their now infamous debut track "Stolen Dance". After its re-lease, Milky Chance ascended to the coveted number one spot in several countries, became the "most blogged about act" on the Hype Machine, and released the successful follow-up singles "Down By The River" and "Flashed Junk Mind" off of their self-produced album 'Sadnecessary.'
As a result, the duo left their small hometown for multiple tours that took them across several continents, to the fields of Glastonbury, the desert of Coachella, and the stage of Lollapalooza. It's this journey, replete with the push and pull of emotion that comes from being uprooted that forms the ba-sis of their new album 'Blossom'.
Comprised of childhood friends Clemens Rehbein and Philipp Dausch, Milky Chance emerged from Kassel, Germany. It's an average sized town slap bang in the center of the country, the sort of place where everyone knows one an-other. But it's also a breeding ground for creativity. "It feels easier to concen-trate on what you really want to do if you're not distracted by big city life", says Philipp.
When the pair finished school, they had plans to travel through Europe on a bus with their friends. The release of "Stolen Dance" and their debut album 'Sadnecessary' made this dream a reality, as Milky Chance spent the better part of 350 days taking their music from The United States and Europe to South Africa and Australia. But therein lays the problem. "It was like we fin-ished with school, then we were thrown into a big industry", says Clemens. "It was great. Every day was an adventure. But everyone who goes on that journey of adventure after school gets to return home."
Home, and the feeling of being entrenched in the foundation of one place, isn't just an important necessity – it's a human need. And for Milky Chance, it's also a feeling that's tied up in a multitude of emotion. "As an artist you fuel a lot of creativity by jumping into the bus and going somewhere new, but it's also about being rooted somewhere", says Clemens. Perhaps even more pertinent though is this: in the years between the release of 'Sadneces-sary' and this new album, Clemens welcomed someone new into his life – his daughter.
"You want to hold it all together. You want to be a musician, but you also want to be a good father", he says. One specific track on the album, the title track, is about his "view changing in life" since his daughter was born. Ulti-
mately, it is things like this that have fueled the conception of this latest col-lection of tracks. As the band themselves tell it, "it's about the experience we had in the last two years and the two different worlds we've jumped into: touring, then being home in our private life with family and friends and trying to keep the balance".
The first single to rise from this period of reflection is "Cocoon", a track that's "about being in a certain situation, trying to work with it, figure out what you've done and why you did so". As its name and sound implies, the track also brings forth a palpable sense of returning to a place of serenity. Or in Clemens own words "trying to find a place where you can be yourself and not be distracted; to slow down and reflect on yourself".
Across the rest of 'Blossom', we're introduced to a vigorous, secure Milky Chance. With that extended period of adventure and personal development now built into their roots, there's a renewed sense of depth to the band's serenely alluring jams. It's a sound that pops and bursts into life, but running through its bedrock is a sense of learning and reflection.
Like their previous album 'Sadnecessary', there's no doubt that 'Blossom' will enter the ears of the music world with an unrelenting force – and their hearts. Ultimately though, this is a record that belongs to Milky Chance. If we think of music as a learning experience, something to help us make sense of our life, then this is a record that's helped Milky Chance to do that. It is a process, an experience, a chapter in life – and it's all burnt onto one record that captures those feelings in detail.