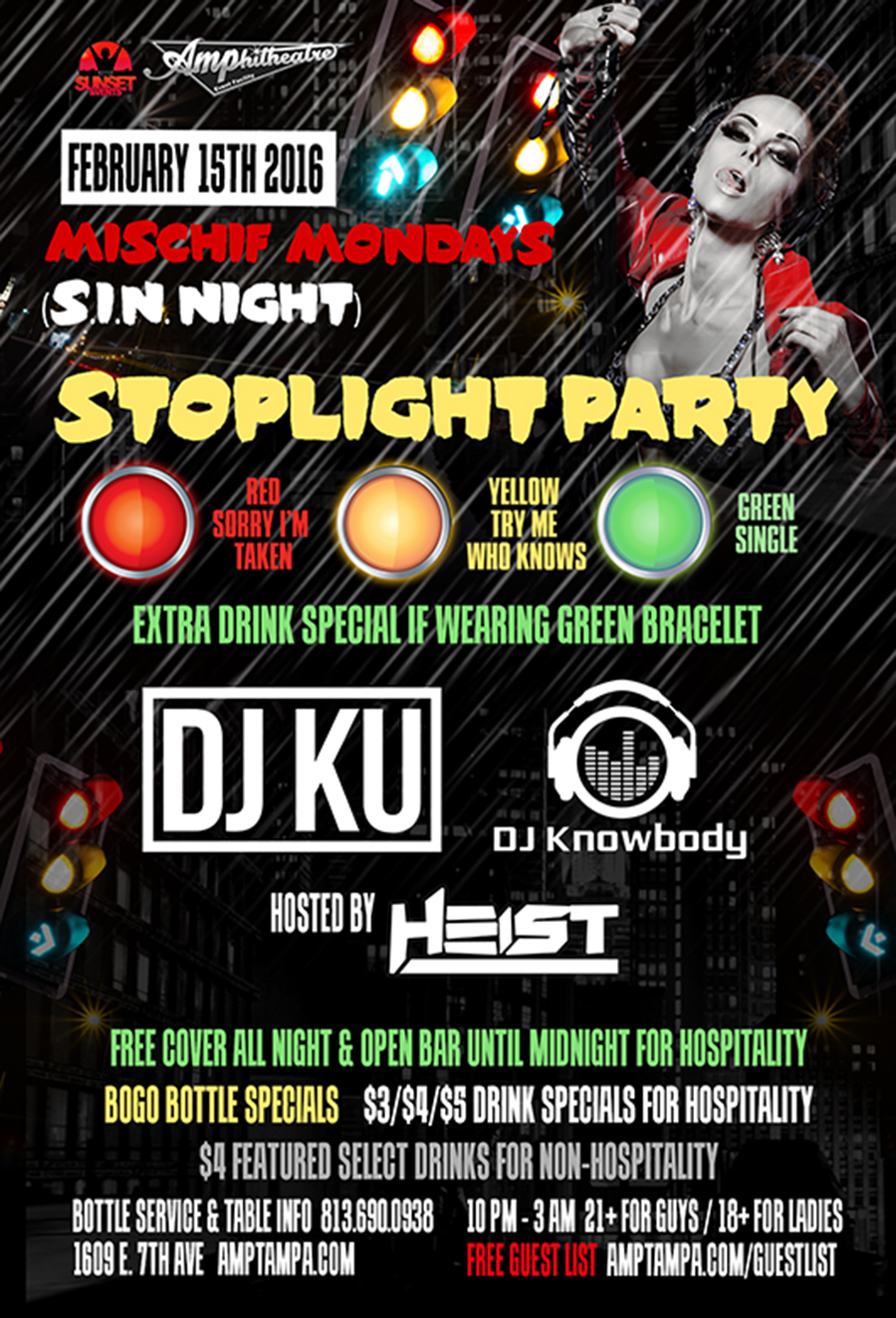 Mischief Mondays at The AMP – STOPLIGHT PARTY – 2/15/2016
Free Event
OPEN BAR (WELLS & CALLS & BEER) TILL MIDNIGHT FOR HOSPITALITY!!!
BOGO BOTTLES ALL NIGHT!!!
FREE COVER FOR HOSPITALITY ALL NIGHT!!! FREE GUEST LIST FOR NON-HOSPITALITY UNTIL 11:30P!!!
BOGO BOTTLE SPECIALS – CALL OR TEXT 813-690-0938 FOR INFO!!!
Sunset Events presents:
MISCHIEF MONDAYS – S.I.N. NIGHT
STOPLIGHT PARTY
We'll be handing out colored wristbands to indicate…
Red – Taken / Yellow – Try Me, Who Knows / Green – Single, Let's Mingle
Those wearing a green bracelet will receive an extra drink special!
Featuring the sights and sounds of…
DJ KU
Critical Beatdown Crew | Red Bull Thre3Style Southeast Champ and US Finalist | Voted "Best DJ in Tampa Bay" and ranked #21 (of 100) "Best DJs in America" by Sun Times National
www.fb.com/djkufanpage | www.soundcloud.com/djku
DJ KNOWBODY
www.fb.com/djknowbody
Hosted By – HEIST
————————–——————
!!! SPECIALS !!!
$3/$4/$5 specials for Hospitality
$4 featured select drinks for Non-hospitality
Get a free bottle for hospitality for groups of 5 or more (Pre-book only)
***VALID PAY STUB OR INDUSTRY ID REQUIRED FOR HOSPITALITY SPECIALS***