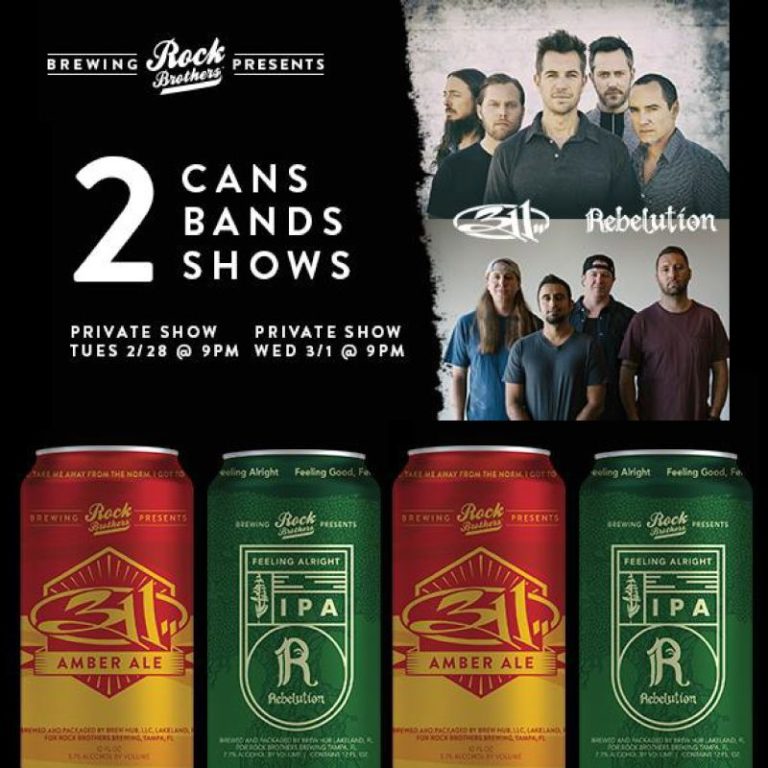 Rock Brothers Private Show w/ Rebelution at The Ritz Ybor – 3/1/2017
Buy Tickets
Free Event
WIN TICKETS TO THIS PRIVATE SHOW!
:: CONTEST RULES LISTED BELOW ::
:: TICKETS ARE NOT FOR SALE ::
1. :: Visit Rock Brothers Brewery (1901 N. 15th Street. Ybor City) between 2/1 – 2/20.
2 :: Register at Rock Brothers to win FREE tickets to see 311 and/or Rebelution at small PRIVATE shows at The Ritz in Ybor.
3. Winners will be drawn on Monday February 20th and you will be notified by email if you won.
4 :: The shows are special events for FLORIDA RESIDENTS ONLY. You must present a Florida Driver's License at time of registration. Winners will be randomly selected to attend and will be emailed a confirmation by 2/25.
311 will play Tuesday 2/28 and Rebelution will play Wednesday 3/1.
These special private concerts are brought to you by ROCK BROTHERS BREWING – in celebration of 311 AMBER ALE and Rebelution FEELING ALRIGHT IPA becoming available in cans.
We look forward to seeing you all at the show!
Visit: www.rockbrothersbrewing.com