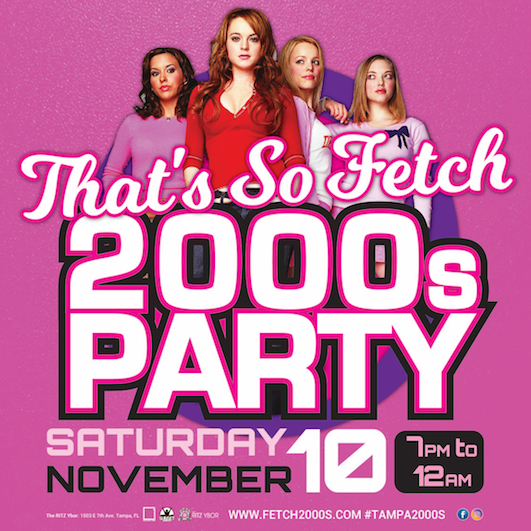 That's So Fetch! 2000s Party at The RITZ Ybor – 11/10/2018
Buy Tickets
Hey losers! After the success of Saved By The Ball: '90s Party + The BIG HAIR Ball: '80s Party, SQUARE ONE will host the 1st annual Thats So Fetch 2000s Party at The RITZ Ybor on Saturday, November 10, 2018 from 7pm to midnight.
THAT'S SO FETCH WILL FEATURE:
+ Actual Bank Robbers performing your favorite 2000s sing-a-long classic from Outkast to Avril Lavigne to Coldplay
+ Dance Party w/ VJ Sirius playing your favorite 2000s pop, dance & hip-hop music videos from Missy Elliot to Britney to Fergie & the Black Eyed Peas
+ themed cocktails
+ a BEST DRESSED costume contest
+ the ultimate 2000s film, Mean Girls playing all night long
Dust off those Von Dutch trucker hats, Ed Hardy t-shirts and velour track suits, it's time to get flossy flossy.
TICKETS AVAILABLE ONLINE:
+ General Admission: $10 (until November 5), $15 (November 5 to 9, 2018) & $20 (day of)
+ VIP Admission: $50 (must be 21)
VIP Admission includes skip the line privileges, access to VIP lounge areas, and two (2) drink tokens redeemable for any cocktail or beverage.
FOR MORE INFO: www.Fetch2000s.com #Tampa2000s