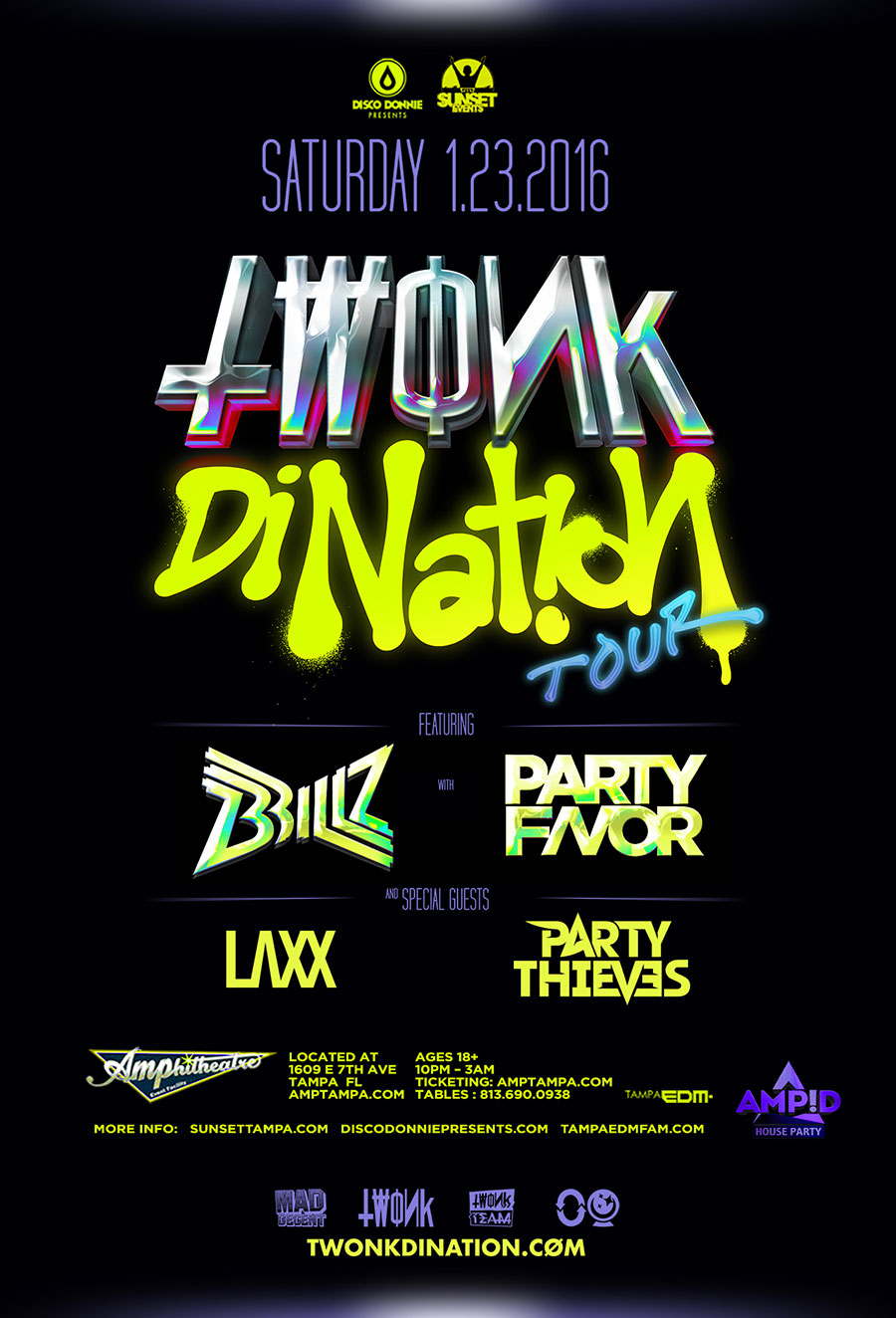 Twonk Di Nation Tour w/ Brillz & Party Favor at AMP!D House Party – 1/23/16
Buy Tickets
Can't believe I get to be the first person to share this news with you, but I'm embarking on a wild ass TWONK DI NATION Tour starting in November. Bringing out some of my favorite homies. This is the craziest most neck braceified twonkadelic crazy tour we have ever put together and I expect to see all you twonk team kids getting buck af with us!!
Sunset Events and Disco Donnie Presents in Association with Tampa EDM present:
TWONK DiNATION TOUR
Featuring…
BRILLZ & PARTY FAVOR
with Special Guests
LAXX & PARTY THIEVES
Saturday – January 23, 2016 – at The Amphitheatre
Doors: 10p-3a
Ages: 18+ Welcome
Tables: (813) 690-0938
BRILLZ
www.fb.com/ItsBrillz
www.twitter.com/ItsBrillz
www.soundcloud.com/itsbrillz
Turning heads with his trapped-out blend of hip-hop and EDM, Brillz's interest in music stems from his history in the dance music scene. Introduced through the dance itself, Brillz was a founding member of a dance crew called Liquid Pop Collective before producing and DJing. The group would hold events on the East Coast, merging the dance styles of funk and hip-hop with the rave culture dance "Liquid". As he progressed into production, these themes would carry through as a foundation of Brillz's aesthetic.
PARTY FAVOR
www.fb.com/PartyFavorMusic
www.twitter.com/PartyFavorMusic
www.soundcloud.com/partyfavormusic
Few acts have the innovative character and diverse repertoire of Los Angeles' fastest rising name, Party Favor. Dylan Ragland took the name Party Favor to show how diverse and unexpected his influence on electronic music can be. The result: an effort that helped pioneer the festival trap genre, turning heads across the globe. Party Favor is currently jumping between groundbreaking remixes for Dillon Francis, Diplo, Major Lazer, and Flosstradamus while creating chart topping original records such as "Bap U" (Mad Decent) and "Booty Loose"(Mad Decent).