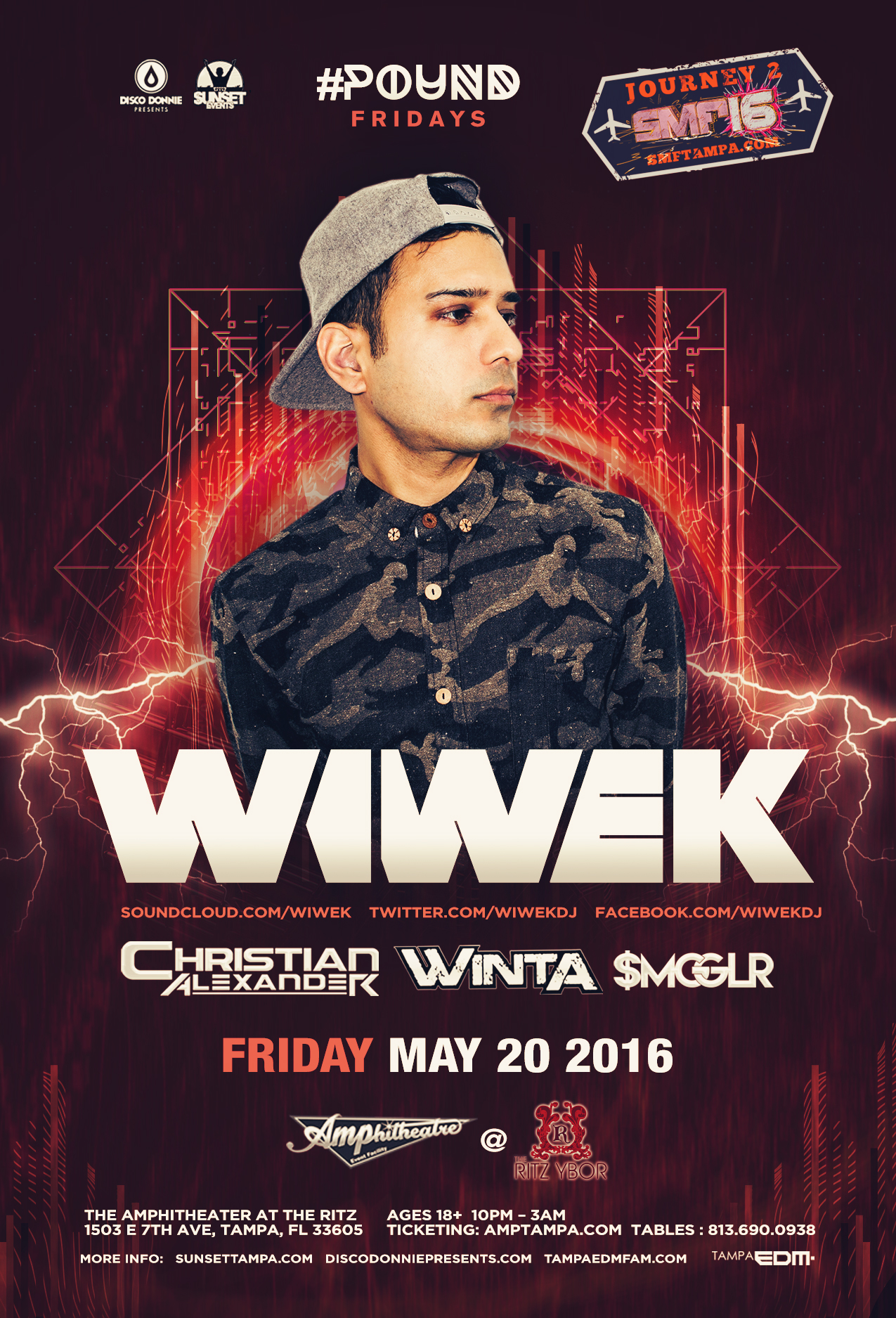 WIWEK – Journey 2 SMF – #Pound Fridays at The Ritz Ybor – 5/20/2016
Buy Tickets
Wiwek, living in the small town IJsselstein in the Netherlands, is known for fusing electronic elements with tropical rhythms to create a distinctive and refreshing sound, which he likes to call "Jungle Terror". The jungle terror style, created by himself, got inspired by his own Indian roots in combination with the love for Tribal House and Hip-Hop music.
After releasing the highly anticipated tracks "Angry Birdz" and "On Your Mark", two tracks that were among the most played tunes at Miami Music Week 2014, the Jungle Terror sound left its mark in the rapidly changing electronic music industry.
Wiwek's productions dominated the live sets of all major headliners for the 2015 festivals creating an even bigger buzz. With releases on OWSLA, Spinnin Records, Mad Decent, Barong Family, Revealed Recordings and others Wiwek receives international support from all major labels.
After teaming up with artists such as Hardwell, Yellow Claw and GTA the year 2015 can be seen as one of his best years to date. While reaching millions of fans globally with his highly energetic DJ sets, surprising releases and entertaining social media updates. Wiwek is ready to conquer.
One of biggest influencers on the current dance scene, Skrillex, did not leave this unnoticed and signed Wiwek for an EP on his OWSLA label. After spending time in the studio, Wiwek is now ready to let the world experience his evolved, sound. The EP is called "The Free and Rebellious" and is set for a release date on the 26th of February.
While spending a week clearing his head during a trip to the Himalayas, Wiwek has come up with the "The Free and Rebellious" concept. This concept is the basis and main focus of his musical direction for 2016. As Wiwek mentions himself, the "The Free and Rebellious" ideology fits his personality perfect.
By releasing "Tropicana", a collaboration between Wiwek and Valentino Khan, the world had an exclusive sneak peak for what is coming up on the new EP. The EP consists of 5 brand new tracks, including collaborations with Skrillex, Yellow Claw and many more.
With that being said, 2016 will definitely turn out even more successful than what you've seen thus far. You are warned, because Wiwek is not planning to slow down. On Your Mark, you better get set!