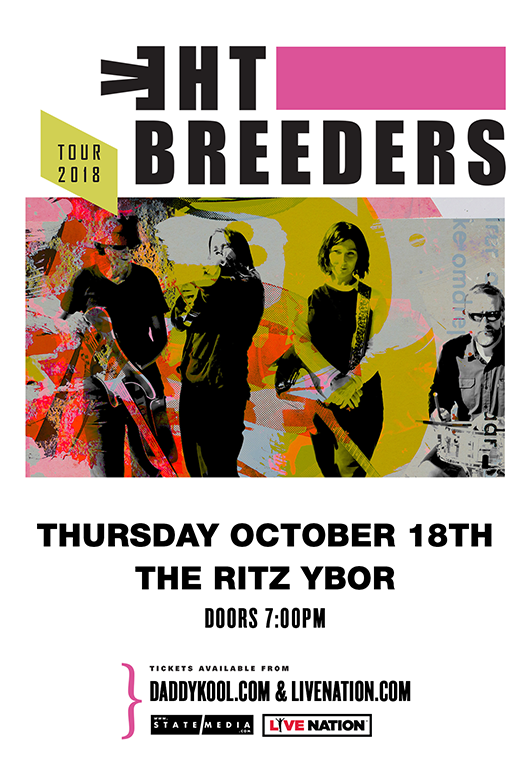 The Breeders at The RITZ Ybor – 10/18/2018
Buy Tickets
Live Nation + No Clubs present
The Breeders
Thursday, October 18, 2018
w/ Melkbelly
Doors: 7pm | Show: 8pm
Ages 12+
Tickets are available online at LIVENATION.COM + DADDYKOOL.COM
VIP: vip@theritzybor.com (VIP is ages 21+ only)
Drink Special:  Cannon Blast Rum & Coke – Taste the citrus sweet with a spark of heat for $8
The RITZ Ybor
1503 E 7th Ave – Tampa, FL 33605
www.theritzybor.com
——————–
The Breeders started life as a side project for Kim Deal of the PIXIES, Tanya Donelly of Throwing Muses, Josephine Wiggs of the British band The Perfect Disaster, and Britt Walford of Slint. They recorded the album Pod with Steve Albini in a mere ten days, in Edinburgh, Scotland. The album was released on 4AD in 1990 to critical acclaim. The press dubbed the Breeders an Indie Supergroup, but the band were able to play only two London shows before returning to their day jobs.
During another hiatus in 1992, Josephine flew to Dayton, Ohio, where Kim had recruited her sister Kelley to learn lead guitar, and stolen powerhouse drummer Jim Macpherson after seeing him play in a local band. They broke an exhaustive rehearsal schedule only to watch nightly re-runs of Star Trek The Next Generation.
The Breeders first tour launched in June 1992 in a snooker hall behind Warrington Rugby Club, Manchester, in the UK. Two days later, they supported Nirvana in Dublin and Belfast, and then performed at Glastonbury. After 27 sold-out US shows that fall, the band drove cross-country to San Francisco to record Last Splash, (released August 1993). The video for the single Cannonball—directed by Kim Gordon and Spike Jonze—was in heavy rotation on MTV's 120 minutes throughout the fall. The band provided support for Nirvana's In Utero tour, then in January 1994 they traveled to Australia, Japan, and Hawaii, where they were shot for the cover of Rolling Stone—only to be supplanted by the "Ladies of Melrose Place." That summer they embarked upon the epic Lollapalooza '94; the Melody Maker opined, "Kim's nicotine-stained vocals [are] the very spit of wasted elegance…" the Breeders are "probably the most casually brilliant band around" and Last Splash went platinum. Whatever that means.
In 2013, Kim, Kelley, Josephine and Jim reunited for the 20th anniversary of Last Splash. 4AD reissued the album as a deluxe box set, and the "classic" lineup of the Breeders (augmented by violinist Carrie Bradley) toured the US, Europe, Austrailia and South America, performing the album at festivals, and playing eight months of sold-out shows. In London, they played Last Splash and Pod back to back, a tour de force they went on to repeat several times. The final run of shows took them across country from Dayton to L.A.—dubbed by Kelley the "Mid West Coast Tour"—culminating in a performance supporting Neutral Milk Hotel at the Hollywood Bowl.
As the end of the reunion tour approached—Kim, or was it Kelley?—broached the idea of carrying on—and the Breeders started working on material for a new album. They will play shows this fall, including a show with Arcade Fire in late October.